Paleo Zucchini Mushroom Pasta Recipe
Zucchini Mushroom Pasta Recipe
Ingredients
1 spaghetti squash, halved lengthwise and seeded;
1 pound cremini mushrooms, sliced;
2 zucchini, chopped;
2 shallots, sliced thinly;
2 cloves garlic, minced;
2 sprigs thyme;
¼ cup coconut milk;
3 tbsp. olive oil;
Sea salt and freshly ground black pepper;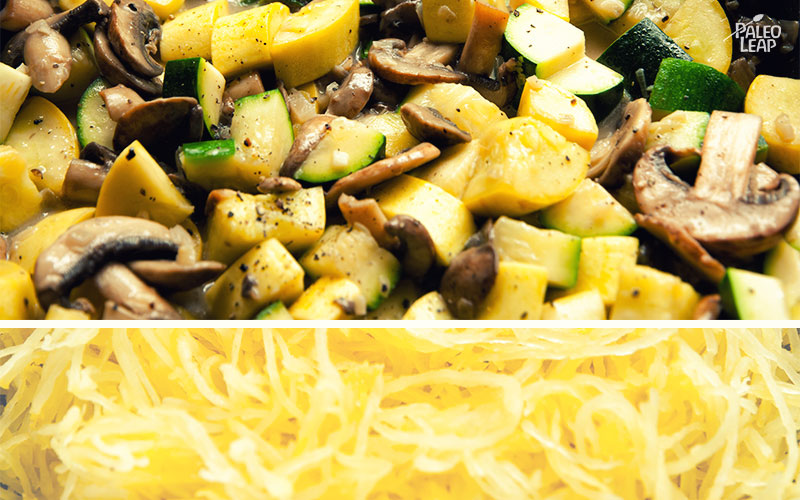 Preparation
Preheat your oven to 350 F.
Lightly oil the spaghetti squash with 1 tbsp. of olive oil and season to taste.
Place the squash, cut side down, on a baking sheet and bake 30 minutes, or until the flesh is soft.
Remove the squash from the oven and set aside until cool enough to be easily handled.
Use a large fork or spoon to scoop the stringy flesh from the squash and place it in a medium bowl.
Melt some cooking fat in a skillet placed over a medium-high heat.
Add the garlic, thyme, and shallots, and cook until soft and fragrant, about 3 to 4 minutes.
Add the zucchinis, and the mushrooms and cook until soft but still al dente.
Add the coconut milk. Stir well and remove from the heat.
Add the spaghetti to the skillet. Mix everything well, drizzle with the remaining olive oil, adjust the seasoning, and serve warm.