New England Clam Chowder
Get link

Facebook

Twitter

Pinterest

Email

Other Apps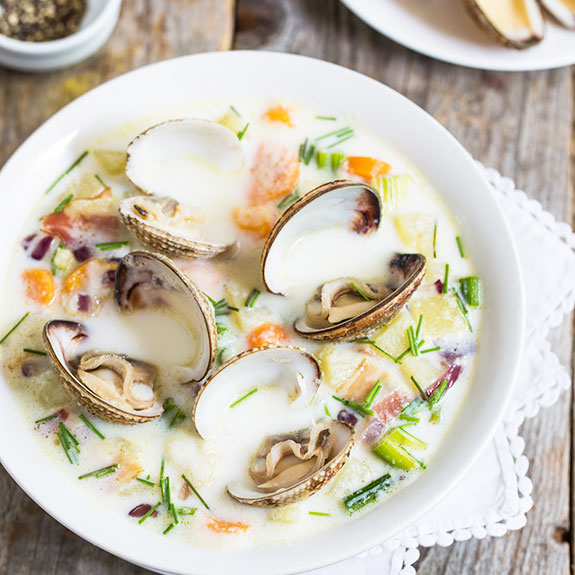 New England Clam Chowder
Serves 4
Ingredients
3 pounds fresh clams or 2 10-ounce cans of baby clams, not drained
2 ounces bacon, chopped
2 medium (½ pound) turnips, chopped
1 small onion, diced
¼ cup chopped carrots
¼ cup chopped celery stalk
3 large clove of garlic chopped
1 cup homemade chicken broth or water
4 cups cauliflower florets
1 cup coconut milk
2 tablespoons olive oil
1 bay leaf
1 tbsp chopped fresh chives
salt and pepper to taste
Instructions
If using fresh clams bring 4 cups of water and clams to a boil in a large enough pot over high heat. Cook until clams have opened, 8 to 10 minutes. Discard clams that do not open after 15 to 20 minutes. Remove clams and allow to cool slightly then remove meat from shells (save a few for decoration) and set aside. Strain clam broth by pouring it through a fine-mesh sieve into a bowl and set aside. Clams and broth can be prepared a day earlier.
Put 4 cups cauliflower florets in a large pot and cover with water and bring to boil over high heat. Cook cauliflower just until tender. Strain and transfer to a food processor or blender. Add 1 cup of coconut milk and 2 minced garlic cloves and blend until smooth.
In a large heavy-bottomed pot heat the olive oil over medium heat. Add bacon and cook, stirring occasionally, until bacon begins to brown. Add celery, turnips, onion, carrots and garlic and bay leaf and sauté, stirring often, for a few minutes. Add clams and clam broth. If using canned clams, do not drain them, just add the juices and all and 3 cups of water. Bring to a gentle simmer and cook for 20-25 minutes or until celery, turnip and carrots are tender. Add cauliflower sauce and mix well. Cook for 5 minutes more. If the chowder is too thick add a little water to get your desired consistency. Discard the bay leaf and season to taste with salt and pepper. Divide the chowder among bowls. Garnish with chives and reserved clams and serve immediately.
By Harper
Get link

Facebook

Twitter

Pinterest

Email

Other Apps