Apple Cider Baked Chicken
apple cider baked chicken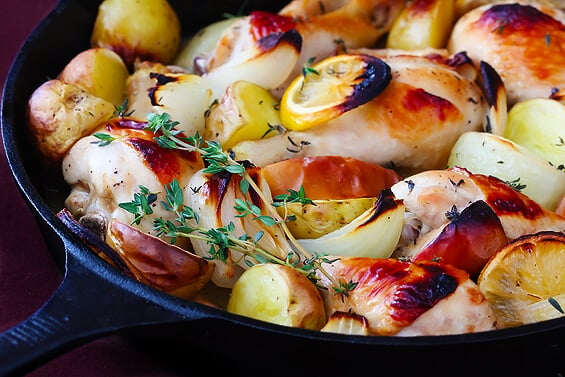 'Tis the season for apple cider…and apple cider recipes!
After making these delicious
caramel apple cider cooki
es earlier this month, I thought it would be fun to make some sort of main dish with my favorite
homemade apple cider
. So after picking up some simple (and very inexpensive!) ingredients, I ended up with this amazing apple cider baked chicken recipe!
It only takes about ten minutes to prep (perfect before work in the morning), and then after marinating all day, you just pop everything in the oven. And voila! This simple and healthy dish — celebrating the goodness of baked apples, chicken, potatoes, lemons and herbs — will be ready to go.
(And did I mention that your home will smell absolutely amazing?!?)
Definitely a fantastic meal to bookmark for apple cider season!
Apple Cider Baked Chicken
Ingredients
1 large onion, peeled and cut into eighths
1 large lemon, sliced into thin rounds
2 cups apple cider, homemade or storebought
1/4 cup olive oil
1/4 cup chopped fresh thyme, plus more for garnish
2 Tbsp. apple cider vinegar
2 tsp. Dijon mustard
2 garlic cloves, minced
2 bay leaves
1/2 tsp. salt
1/2 tsp. freshly ground black pepper
6-8 chicken legs or thighs
2 large apples, each sliced into eighths
1 lb. small, red or Yukon Gold potatoes, halved or even sweet potatoes
Method
Place a gallon size heavy-duty zip-top bag into a large bowl. Place the onion and next 10 ingredients into the zip-top bag, combining well. Add the chicken to the marinade. Close the bag, place in the refrigerator to marinate for at least 4 hours or up to 24 hours.
Preheat oven to 350 degrees. Arrange the chicken pieces in a large roasting pan skin-side up. Pour all of the marinade, including onions and lemons over and around the pieces. Tuck the apples and potatoes around the chicken. Cook for 1 hour and 15 minutes, stirring once halfway through to re-coat everything with the marinade.
Arrange chicken and potatoes on a platter and sprinkle with chopped fresh thyme.
Ali's Tip:
Feel free to add some mushrooms, red peppers and/or other favorite vegetables to this!
Source:
Adapted from the
U.S. Apple Association
.