How To Make A Satisfying Lunch Without A Recipe
Do you get cranky, anxious, overwhelmed or just feel completely wiped out in the afternoons? There's a good chance you're not giving your body and mind the fuel and nourishment they need.
We tend to forget that lunch is the meal that will get us through the rest of the day. Lunch is the meal we tend to skip, under-eat or end up with less healthy choices.
When done right, lunch helps us feel balanced, focused and motivated without needing that coffee and cookie at 4pm.
If your healthy eating efforts are slipping and your weight-loss goals are stuck, it's possible that a healthy midday meal is the answer. I see my health counseling clients make a huge shift after they start having a more substantial lunch.
You need a lunch that's easy and fast to make, but substantial enough to help you feel full, nourished and on your game for the day.
The "Kitchen Sink" Salad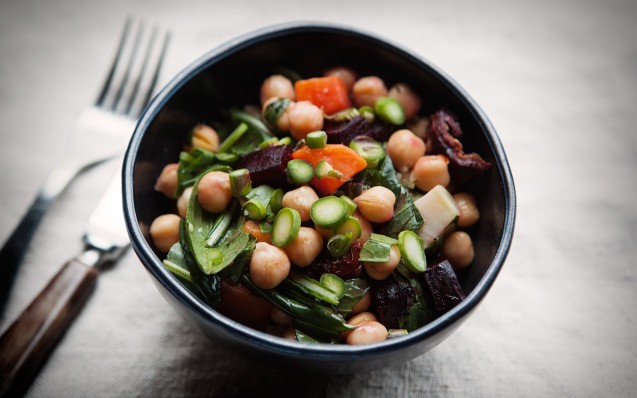 Step 1: Look in your fridge to see what veggies you have (fresh or cooked leftovers).
Step 2: Find a can of chickpeas or beans, olive oil, salt and pepper.
Here are some ingredient suggestions, but you can substitute them for whatever you have on hand:
Base
1 can chickpeas or beans, drained and rinsed (gives you two portions)

Vegetables
leafy greens (if it is kale, massage it first)
asparagus, raw or cooked
carrots, raw or cooked
beets, raw or cooked
sun-dried or fresh tomatoes

Dressing
olive oil
sea-salt and fresh ground pepper
Toppings
avocado
nuts or hemp-seeds

Preparation
Roughly chop the vegetables, mix it all up together, add the sea-salt, pepper and olive oil.
You just got lunch.
Photo courtesy of the author