Rosemary Skillet Chicken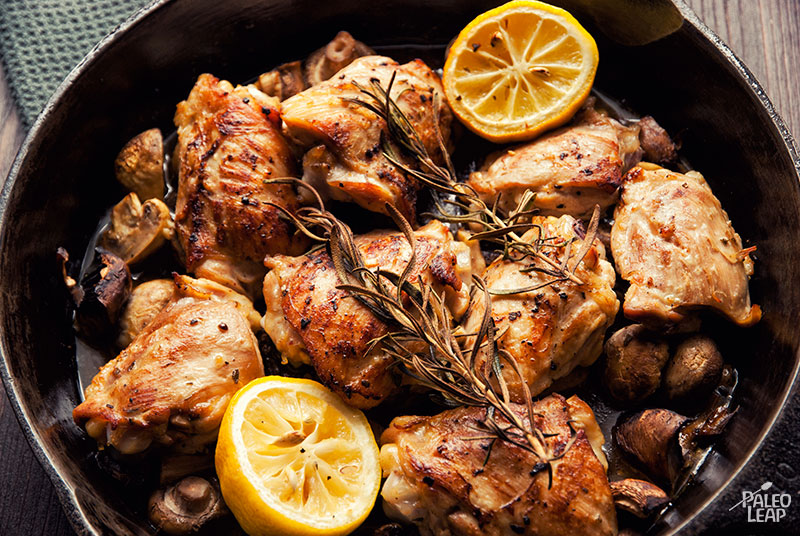 Rosemary Skillet Chicken
This recipe is very forgiving—and incredibly low maintenance—so you can easily throw it together on a weeknight. What takes the most time is blitzing some rosemary, garlic, crushed red pepper flakes, and lemon juice in a food
processor
2 sprigs fresh rosemary, plus 1 1/2 tablespoons rosemary leaves, plus more sprigs, for garnish (optional)
2 cloves garlic
2 teaspoons kosher salt
1 teaspoon crushed red pepper flakes
2 lemons, juiced and rinds reserved
3 tablespoons extra virgin olive oil
4 to 6 bone-in, skin-on chicken thighs
2 cups cremini mushrooms, halved
1.
Position a rack in the center of the oven and heat the oven to 450°F.
2.
In the bowl of a food processor, combine rosemary leaves, garlic, salt, red pepper flakes, lemon juice, and 2 tablespoons olive oil. Process to a coarse paste, then scrape out into a large bowl, add the chicken, and toss to coat.
3.
Heat the remaining 1 tablespoon olive oil in a large cast-iron skillet over medium-high heat. Add chicken, skin side down, and brown, about 5 minutes. Remove chicken from the pan; add the mushrooms, stir to combine, then return the chicken to the pan, nestling it among the mushrooms. Drizzle the chicken with any marinade remaining in the bowl.
4.
Add the rosemary sprigs and the reserved lemon rinds to the skillet; transfer to the oven and roast, uncovered, until the chicken is cooked through and the skin is crisp, 20 to 25 minutes. Garnish with more rosemary sprigs, if you like, and serve.