EGG FAST DAY #2
Egg Fast Menu – Day 2
7am – same as yesterday, my version of Bullet Proof Coffee made with 2 cups (16 ounce) of coffee, 1 tbsp each of coconut oil and butter, dash cinnamon and dash pink salt. I throw it all in my BULLET Rx to make my morning latte. I drank this while I wrote a few blogposts.
9:30am 3 Cream cheese muffins.
For now, here is the quick & dirty : Melt 4 ounces cream cheese and 4 tbsp butter on medium heat in a
glass measuring cup
in the microwave until soft. (Mine took a couple minutes at 50% power). Using a whisk, whip a pinch of
vanilla powder
, a dash of cinnamon, 4 eggs and the equivalent of 2 teaspoons sweetener into the glass measuring cup. Pour batter into 6 muffin tins. Bake at 325 for about 45 minutes. (I use
silicone muffin tins
because no cooking spray required)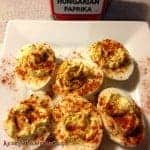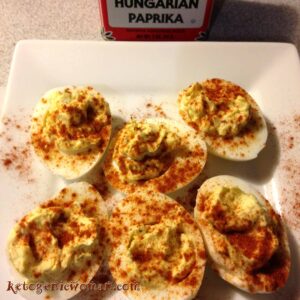 1:30pm
– Devilled Eggs. 3 eggs cut in half. Remove yolks and mash with 2 tbsp mayo. Salt and pepper. Easy, easy.
5:30pm.
Grilled Cheese Wafflewich. Oh this is sooo delicious! If you recall, I made a double batch of
egg diet plan waffles
last night and saved 4 waffles for today. I buy the sliced cheddar from Costco (each slice is about 3/4 ounce) and this is NOT those processed cheese slices. I measured out my tablespoon of butter and put half in my copper non-stick frying pan. Put the cheese slice between 2 waffles and slap it down in the pan. I press it into the sizzling butter until browned, and then flip it over until I can see the cheese is melting. Repeat this with the other 2 waffles, butter and another slice of cheese. Enjoy!
Total for the day: 7 eggs, 8 tbsp fat and 4.5 ounces of cheese.