4 More Homemade Face Masks That Will Make You Glow
Get link

Facebook

Twitter

Pinterest

Email

Other Apps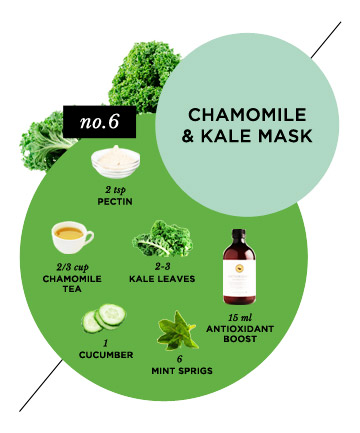 The Redness-Reducing Chamomile & Kale Face Mask

Try it: While watching "Game of Thrones," "Mad Men," "Homeland" or any other nail-biter TV show that stimulates the production of the stress hormone, cortisol

Why it works: Chamomile is used in many skin-care products to tamp down inflammation and generally calm irritated skin. Kale is rich in antioxidants and skin-rejuvenating vitamins A, C and K, which soothe UV damage and help eradicate free radicals.

Ingredients:
2 to 3 kale leaves
1 cucumber
2/3 cup chamomile tea, cooled
6 mint sprigs
15 ml Antioxidant Inner Beauty Boost (optional)
2 teaspoons pectin

Directions: Blend fresh ingredients together. Add the pectin until it thickens. Apply to freshly washed face and leave for 10-15 minutes. Rinse well.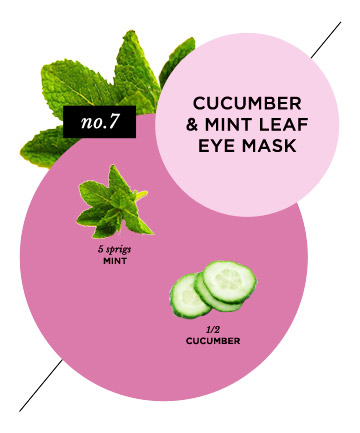 Cooling Cucumber and Mint Leaf Eye Mask

Try it: When you need to de-puff your eyes after a poor night's sleep

Why it works: Peppermint increases blood circulation, while the antioxidants in cucumbers decrease eye irritation.

Ingredients:
5 sprigs mint
1/2 cucumber

Directions: Puree the mint and cucumber in a blender. Soak a cotton ball in the solution, then pat it around your eyes. Leave on for 20 minutes before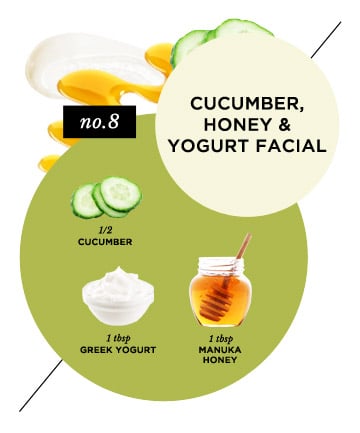 Get-Glowing Cucumber, Honey and Yogurt Facial

Try it: To soothe and tone before a big event

Why it works: Honey is a skin-softener that naturally reduces acne. Yogurt contains skin-refining bacteria, and also moisturizes.

Ingredients:
1/2 cucumber
1 tablespoon Manuka honey
1 tablespoon Greek yogurt

Directions: Puree the three ingredients together in a blender. Spread over face. Leave for fifteen minutes, then wash off with warm water.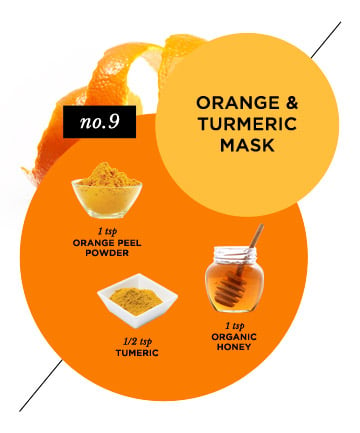 Blemish-Banishing Orange and Turmeric Face Mask

Try it: When you're having a not-so-perfect skin day

Why it works: Turmeric has been hailed as an anti-aging supe rspice, but it's also effective topically. It's anti-fungal, anti-inflammatory and anti-bacterial -- even against P. acnes, the bacteria linked to breakouts.

Ingredients:
1 teaspoon orange peel powder
1/2 teaspoon turmeric
1 teaspoon organic honey

Directions: Mix ingredients to create a paste. Brush it on (you can use a makeup brush), and let dry for 10 minutes. Rinse well with water.
Get link

Facebook

Twitter

Pinterest

Email

Other Apps