Vegan Jjajangmyeon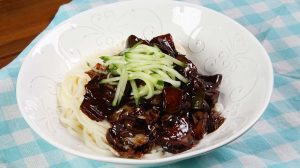 Ingredients
For the Shiitake Mushroom Broth
For the Veggies
1½ Tbsp chopped garlic (approximately 4 to 5 cloves)
1 Tbsp hopped fresh ginger
¼ cup chopped green onions (approximately 2 to 4 green onions)
1 large onion, cut into large chunks (approximately 10 oz)
¼ of green cabbage, cut into large chunks (approximately 8 oz)
1 large zucchini, cut into cubes (approximately 12 oz)
4 to 5 baby portobello mushrooms (approximately 4 oz)
For Stir Fry
2 Tbsp cooking oil
⅓ cup black bean paste, Chunjang (you can substitute to white or red miso if you prefer.)
1 Tbsp unrefined raw sugar
2 Tbsp vegetarian oyster sauce
1 Tbsp cornstarch
Black or white pepper to taste
To Serve
Instructions
In a measuring cup, combine hot water and the dried shiitake mushrooms and let it sit for 15 to 20 minutes. Meanwhile, cut all the veggies.
By this time, the shiitake mushrooms are soften. Squeeze all the water out from the shiitake (make sure to collect all the juice in to the measuring cup.) and chop it. Pour more water into the shiitake mushroom broth to make exact 1 cup.
Heat a large wok or skillet over medium high heat; add cooking oil, garlic, ginger and green onions. Stir fry for 45 seconds to 1 minute to infuse those flavor to the oil.
When you can smell all the fragrances, add black bean paste and stir fry for 1 minute. Constantly stirring.
Add rest of the veggies- onion, cabbage, zucchini and mushrooms. Stir all together and keep stir fry for 3 to 4 minutes or until the veggies are soften. Stir frequently.
Now, add the shiitake mushroom broth, sugar and vegetarian oyster sauce. Mix everything together, bring it to boil and reduce heat to medium then simmer for 10 to 15 minutes with no cover. Stir occasionally so the veggies will cook evenly.
Meanwhile, this is perfect timing to start cook your noodles. You can use any of your favorite noodles, or even rice works great with this jjajang sauce. Cook the noodles by following the directions of the package you are using. Remove the cooked noodles from pot and rinse under cold ice water to stop cooking and get rid of the starch. Drain completely.
Mix cornstarch and same amount of cold water. Pour into the wok with a circle motion, and stir immediately. Add black or white pepper to your taste.
Pour the Jjajang sauce over the cooked noodles. Top it up with some julienned cucumber if you like! Mix well before you eat and enjoy!! And to make it vegetarian and creamy add a fried egg.