Budget Keto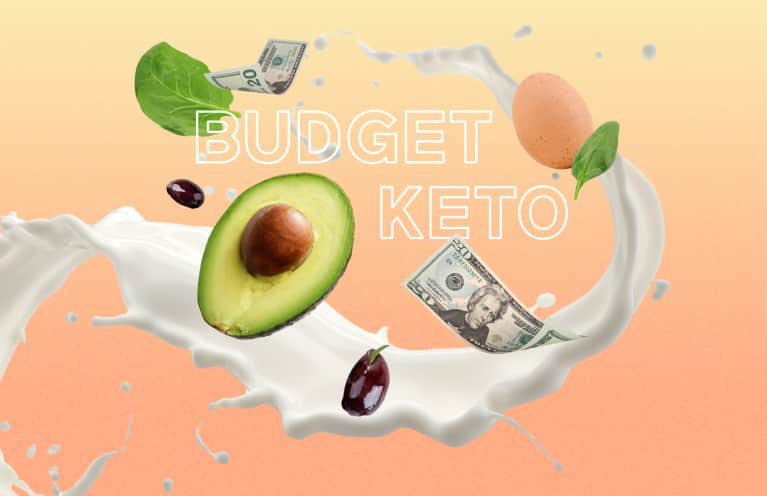 Hello!
Not only can a more plant-based version of the ketogenic diet help your health and the environment—it's a lot easier on your wallet as well! Beyond all the cool health benefits, trying a more plant-based version of keto is just one way to save money if that alone is your particular goal. I am one who cannot do alot of dairy. I love cheese but the too much reeks havoc on my skin and digestion. I know alot of ya'll are the same.
All you need is one avocado with the pit removed and 2 eggs. Crack an egg into each half of the avocado, season with sea salt and pepper, and bake at 350 until the egg is cooked to your liking.
Heat up some avocado oil in a skillet with some minced garlic and shallots until soft. Add in a can of coconut milk and heat until it starts to thicken. Toss in 5 cups of kale and some ground ginger and cook until the kale wilts for a quick and delicious lunch.
Dinner – Pesto Zoodle Bowls
¼ cup olive oil
1½ cups baby spinach
½ cup packed fresh basil leaves
¼ cup walnuts
1 garlic clove
⅛ teaspoon sea salt
2 medium zucchini
1 tablespoon olive oil
Dash of ground black pepper
2 ounces vegan cheese or nut cheese or Parmesan
¼ cup pitted black olives
In the container of a food processor, combine all of the pesto ingredients. Cover and process using the metal blade until nearly smooth, stopping and scraping the sides as needed.
Using a julienne peeler, make long slices along one side of each zucchini until you get down to the seeded core. Rotate the zucchini and continue to peel until you've done all four sides. If you have a spiralizer, you can use that instead of a julienne peeler. Discard the core.
In a large skillet, heat the oil over medium heat. Add the zoodles and pepper; cook for 3 to 5 minutes, until crisp-tender. Remove from the heat; add the pesto and toss to coat. Divide the mixture between two serving bowls. Top with cheese and olives.
Tip for any of the three days: If you have some nutritional yeast on hand you can sprinkle some in just about any of these meals to up your plant protein. Also, for an in-budget snack if you have any plant protein powder(low carb) in your pantry you can make yourself a quick keto smoothie with the leftover almond milk and coconut oil you will have.
Day 2
Breakfast – Intermittent fast
Not only does
intermittent fasting
obviously save money, but it also helps increase
autophagy (your cells' self-cleaning process)
and helps you reach ketosis faster. You'll also find that once you've been eating this way for a while you will become more keto-adapted. This means you will get less hungry (and hangry!) since you will have a more sustainable fat-burning metabolism (in addition to eating more filling healthy-fat-rich meals!).
Lunch – Roasted Cauliflower With Hot Sauce, Olives & Lemon
This is one of my favorite lunches for how simple it is to make yet still packed with flavor. All I have to do is roast up some cauliflower florets and mix them up with some hot sauce and olives drizzled with fresh lemon juice.
Dinner – Spicy Frittata Pizza With Spinach & Olives
Eggs are one vegetarian keto food that I like to include in my mostly plant-centric diet for how many valuable nutrients they contain at such a low cost. As they are extremely versatile, I like to eat them for dinner as well as breakfast. Frittatas are one easy way to make eggs, as you can add whatever ingredients you have on hand and bake—in this case baby spinach, kalamata olives, basil, and a little vegan nut cheese.
Breakfast – Asparagus Scramble
Scrambles are yet another way to customize your eggs. I like to switch up my veggies with some asparagus, red bell pepper, chives, and more vegan nut cheese for some additional healthy fats.
Lunch – Cucumber Radish Snap Pea Salad
Salads are perfect for lunch as they don't have to be reheated so you can enjoy them wherever you are.
Ingredients
3 tablespoons avocado oil
1 tablespoon white wine vinegar
2 teaspoons coconut aminos
1 cup sliced English cucumber
½ cup fresh sugar snap peas, sliced crosswise
¼ cup thinly sliced radish
1 medium avocado, halved, pitted, peeled, and cubed
In a medium bowl, whisk together the oil, vinegar, and coconut aminos.
Add the cucumber, sugar snap peas, and radish; toss to coat.
Gently stir in the avocado. Serve cold.
Dinner – Grilled Cauliflower Steaks With Romesco Sauce & Toasted Nuts
This is a staple in my house for a super filling, decadent family dinner.
Ingredients
1 2¾-pound head cauliflower
3 tablespoons olive oil
2 tablespoons sherry vinegar
¼ teaspoon ras el hanout seasoning
½ teaspoon sea salt
¼ cup walnuts, chopped
¼ cup roasted red bell peppers, drained
1 teaspoon minced fresh garlic
⅛ teaspoon ground black pepper
2 tablespoons finely chopped fresh parsley leaves
Preheat the grill to medium-high heat. Hold the cauliflower head stalk-side down on a cutting board. Cut the cauliflower into 1½-inch-thick slices all the way across, yielding two large "'steaks" from the middle of the head, and florets from the edges. Trim and discard the green parts from the steaks and the bottom inch of the stalk. Reserve the florets for another use.
Whisk 2 tablespoons oil, 1 tablespoon vinegar, the ras el hanout seasoning, and ¼ teaspoon salt until thoroughly combined.
Brush the cauliflower steaks with approximately half of the olive oil mixture.
Grill the steaks, covered, on well-oiled grill grates for 8 minutes, until slightly charred. Turn and brush with the remaining oil mixture. Cover and continue to grill for 8 to 10 minutes or until the cauliflower is tender but not mushy. Remove from the grill; cover with foil and keep warm.
Meanwhile, add the remaining 1 tablespoon oil, the remaining 1 tablespoon vinegar, 2 tablespoons walnuts, bell peppers, garlic, the remaining ¼ teaspoon salt, and black pepper to the container of a small food processor and puree until almost smooth, about 1 minute.
Divide the sauce between the steaks. Sprinkle with the remaining chopped walnuts and parsley.
Now when I do Keto, I intermittent fast the whole time. I get into Keto much quicker. So you do not have to do it just the one day.
~Tiffany♥