DIY Berry Mask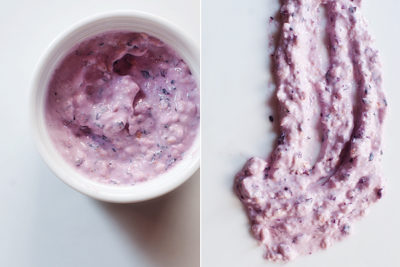 Benefits:
Blueberries
contais antioxidants, prevent premature aging, have wrinkle diminishing properties, skin brightening for radiant skin, and fruit enzymes that help with cell repair.
Grapes
are packed full of antioxidants, vitamin C, and skin brightening properties.
Lemon juice
erases dark spots and scars and also brightens skin.
Manuka honey
has healing properties, purges bacteria, and moisturizes.
Aloe vera gel
has healing and anti-aging properties, and also calms irritated, sensitive skin.
Ingredients:
1/2 tbsp organic blueberries, pureed
1 seedless grape, pureed
1/2 tsp freshly squeezed lemon juice
1/2 tbsp Manuka honey (but regular honey will also work)
1 tbsp fresh aloe vera gel
Directions:
To a food processor or blender, add all ingredients and pulse until a smooth, mask-like consistency forms.
Apply the mask to clean skin, avoiding eyes.
Leave on for 15-20 minutes and rinse off.
Pat dry.
Use this mask once or twice a week to rejuvenate skin, prevent dark spots, and erase wrinkles and fine lines.