GRILLED ROMAINE WITH TOASTED ALMONDS AND CAESAR DRESSING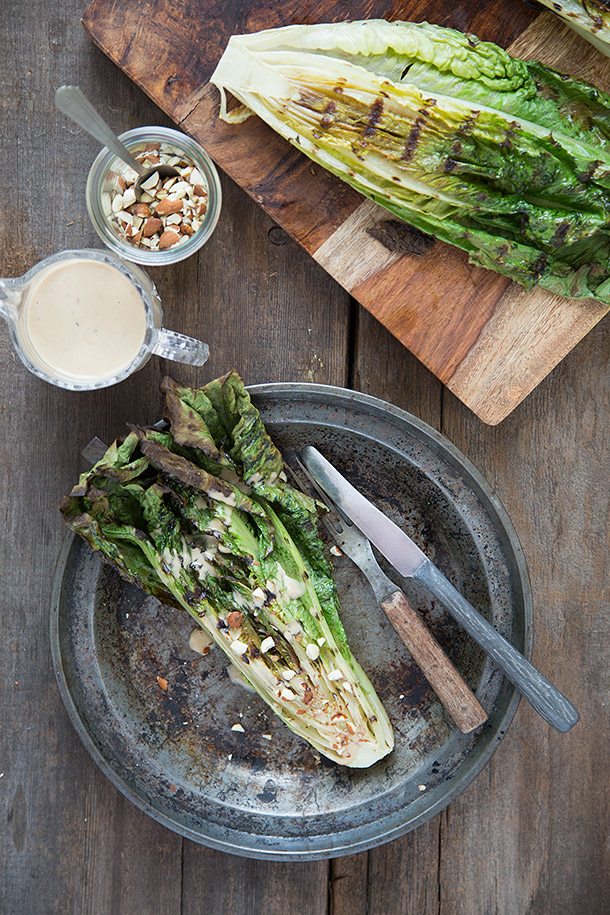 GRILLED ROMAINE WITH TOASTED ALMONDS AND CAESAR DRESSING
INGREDIENTS
2 Romaine Heads
¼ cup almonds toasted and chopped
avocado oil for brushing (you can use any oil here but I like to use avocado oil on the grill)
optional parmesan or sharp cheese for grating
For dressing:
5 anchovy filets packed in olive oil minced very finely
2 tablespoons mayonnaise (I make my own to avoid any unwanted ingredients and have a recipe for it here. You can make it with regular egg yolks if you like.)
⅓ cup extra virgin olive oil
1 tablespoon dijon mustard
1 tablespoon balsamic vinegar
3 cloves of garlic grated
juice of half a lemon
salt and pepper to taste
INSTRUCTIONS
Preheat a gas grill to high heat. In a medium bowl add mustard, vinegar and grated garlic and whisk to combine then add mayonnaise and whisk until thorougly incorporated adn thickened. While whisking at moderate speed slowly add the olive oil drop by drop until it begins to slightly thicken then continue adding it in a slow steady stream, remember ot keep whisking the entire time until all of the olive oil is used. Add anchovy filets and lemon juice and whisk until thoroughly incorporated.
Slice each romaine head in half and brush both sides with avocado oil or oil of choice and place on hot grill grates for 2-4 minutes each side or until they have nice deep dark grill marks.
Pour the almonds in a small skillet over medium heat and toast shaking every so often to prevent burning until they begin to become fragrant and start to brown. Pour them onto a cutting board and coarsely chop them.
Serve 1 half of a romaine head per person with dressing and toasted almonds.